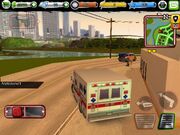 The Ambulance is an emergency vehicle.
Attributes
Unlike its other counterpart, the police car its lights and sirens do not activate at anytime.
It has a white and red paintjob, like most North American ambulances. Unlike the latter, however, it does not have the word "Ambulance" backwards or anywhere on the vehicle.
The Ambulance has a health of 900 and has the same speed as the Grand Detour, Box ES, D340 and the Homm vehicles. Its handling is moderate, but not efficient when making wide turns.